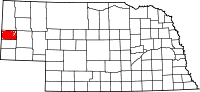 Attractions:
Legacy of the Plains Museum - The Legacy of the Plains Museum offers an excellent look at High Plains agriculture of the past. The Museum has a large collection of agriculture equipment used in the past.
Scotts Bluff National Monument - A majestic landmark used by the Indians, fur trappers, pioneers and modern travelers. Oregon Trail still visible. Museum tells story of the Oregon Trail. Handicapped Accessible.
Events:
Legacy of the Plains Museum Harvest Festival - The mornings and the afternoons will be filled with people, horses and tractor pulled equipment demonstrating the hard work involved in the harvest.
Platte Valley Companies Monument Marathon Come join us in October and be a part of the Platte Valley Companies Monument Marathon to experience the beautiful scenery of Scotts Bluff County, Nebraska. Towering natural monuments that marked the westward bound trails for thousands of pioneers, remote badlands and a rural landscape will provide a stunning and tranquil running experience. You'll run part of the Old Oregon Trail, as the course traverses through historic Mitchell Pass past Scotts Bluff, which stands sentinel over this western Nebraska North Platte River community.